Theater and Entertainment Technology College Certificate Program
Our partnership with Prince Georges Comm. College is known as the T.E.T. Program, which offers a college certificate based on the skills we use in our work. The classes are taught at the college in their theater facility, and we help by providing "lab" courses in our venues, taught by our members and professionals in the business. Typical of the classes we have arranged are:
For a Lighting 1080 Class, we brought the students to the Eisenhower Theater in the Kennedy Center, and helped them hang a lighting pipe, complete with cabling and accessories.

For a Special Effects 2100 Class we brought in a professional pyrotechnician to lead the students through prep and wiring of a variety of pyro devices and then demonstrated firing each device.

For a Theatrical Rigging 1060 Class, we brought the students to the National Theatre and showed them through the flyfloor and grid of our unique "hemp" rigged theater. With the help of one of our riggers, they were able to try their hand at rigging a line set and sandbag counterweight.
Click here for their web site
.
Click on this LINK to see the PGCC Theater specs.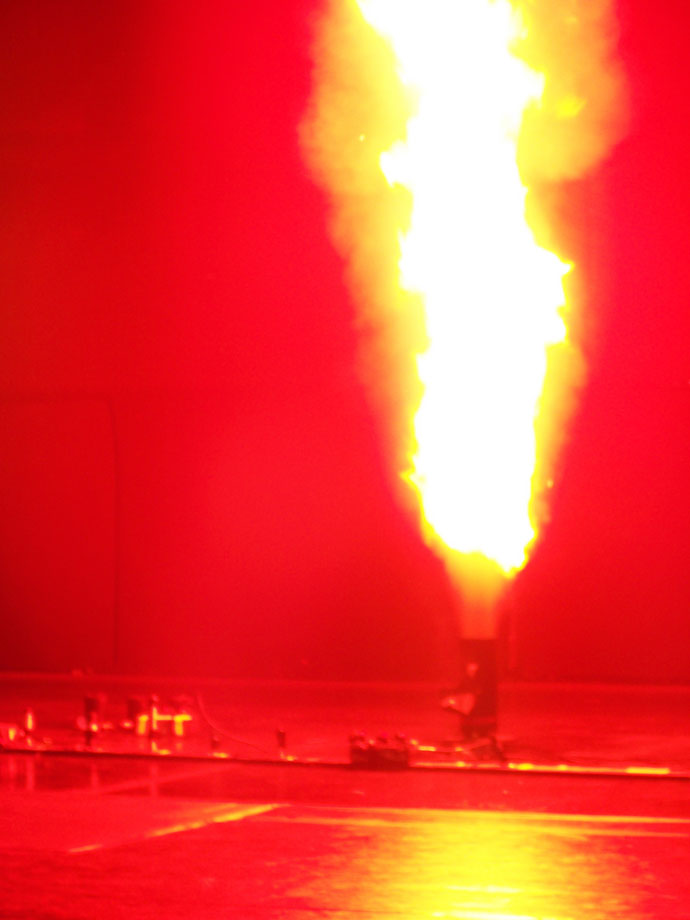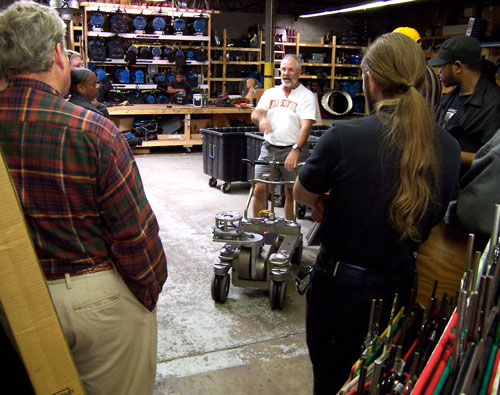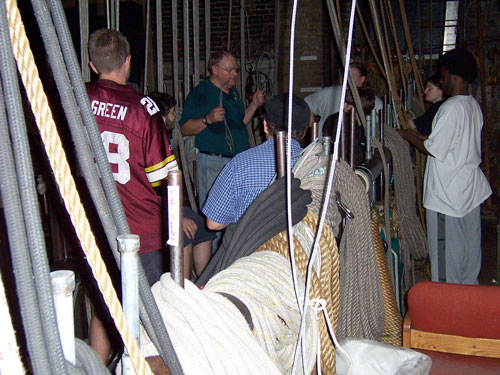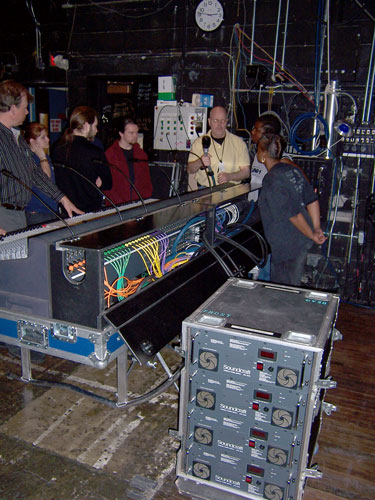 The classes in the TET Program are:
Current Curriculum
THE103 – Introduction to Stage Technology (1 credit)
There's No Business Like Show Business!
A brief over-view of the, business of show business. Includes an orientation of the Theatre Entertainment Technology Certificate Program and the International Alliance of Theatrical Stage Employees Union (I.A.T.S.E.) Local 22 Washington DC.
THE104 – Staging & Grips (4 credits)
Hold on Tight! Explore how shows, Concerts and Events are Staged. Learn about the gadgets that make the show go!
THE105 – Play Production (3 credits)
The who's, who in the production process. The very essence how, when, where, what, and why's of producing a staged theatrical event.
THE106 – Theatrical Rigging (4 credits)
Well Hung! The facts behind the magic of how we hang it, move it, Fly it and groove it into position. Very Cool Stuff!
THE108 – Lighting for the Stage (4 credits)
That's Cool! Be the limelight! Spotlight on how lighting and lighting effects are done for all types of staged events. Explore lighting instruments, controllers, strobes, moving lights and more!
THE110 – Concert and Stage Sound Reinforcement (4 credits)
More Power! Be Heard! This course explores sound systems and equipment used in concerts, theatres and other venues. Learn how to load in, set up and run show sound.
THE111 – Introduction to Stage Makeup (2 credits)
You look Marvelous! Learn the tricks of the trade in how to transform the actor's appearance on stage and film. Includes prosthetics, blood and special effects.
THE115 – Technical Theatre (3 credits)
Why wait! Do it all in one course. Build and light a staged production in one semester.
THE204 – Theatrical Audiovisual/Multimedia for special events. (3 credits)
Big time video! Explore the world of Video Walls, robotic video projectors and more. How it's done for venues of all types and sizes.
THE206 – Theatre Computer Automation and Control (3 credits)
Byte a bit of how computers are playing an ever-increasing role of controlling the show environment.
THE208 – Stage Scenery Construction (4 credits)
Cool Tools and more! Explore the craft of how to construct scenery with metal, wood, and specialty materials. Learn how to properly use all the latest and coolest tools in a modern scenery construction shop.
THE210 – Concert and Stage Special Effects (3 credits)
BAM! FLASH! BOOM! WHOOSH! FIRE! All the latest techniques used on stage to create special effects. The course explores Pyrotechnics, Fog, Smoke, Flames, Water, Fireworks and other special effects mediums used in theatrical performance.
THE212 – Film and Studio Mechanics (3 credits)
The life of the rich and famous! Explore the world of the film studio. How do they do all those special effects?
THE291-293 Cooperative Education (1-3 credits)
Invent your own field of study with any one of our professional theatre instructors
Click on this LINK for Information on the Local 22 Referral System and how to work for Local 22
Page Last Updated: Jan 12, 2018 (08:19:12)